A lot has changed since the internet revolution took over. Technology has literally disrupted every industry including how business is done. But, there has also been a bad side to these changes. Online shopping is now a common practice. Not long ago, purchasing shoes involved going to a shoe store, trying on a pair or two and ultimately deciding which shoes to buy. The buying shoes process has changed over the years thanks to online retail. This has created countless options and access to different online shoe shops. Buying shoes online can be a challenge some times and that why it requires the clients to consider some criteria before buying a product. This enables one to get his/her perfect pair of shoes. Below are the tips customers should check for before buying shoes online;
The first question you should ask yourself is; for how long has the company you want to buy from been in service? What is the location of the company? How do you stay in contact with them? It can be disappointing to purchase a product, and on arrival, it doesn't fit only to find out your retailer is out of reach. For that matter you better know the answers to these questions concerning the company in order to get the right product. For instance, if you want to receive a pair of shoe without taking too much time, you can search for online shoe companies near you. In case of any uncertainty, the company should offer the customer a service phone number in their online websites.
Does the company accept returns and exchanges?
It is easier to get the perfect fit and style when you physically visit a shoe store. When it comes to online shoe shopping, you must ask the provider for their return and exchange policies carefully before making any purchases. Please read through carefully the policy before completing any transaction. It is expensive to cater for returned products especially when the online retail is far from reach. If they offer a good return policy, you can buy from them.
Is the product on sale by the website same as the picture displayed?
Once you have found the website you want to buy your shoes from, confirm from the website whether the product you are buying is new, authentic and legitimate. One of the short comings in online shoe shopping is finding a quality product that fits your preferences. Legitimate retailers like www.guidomaggi.com provide a clear image of the shoes they sale. 
One way to confirm this is by going through their online reviews. Fellow buyers are better people to advise you on legitimacy of sites. They are open and factual. Besides, they do not cover for malpractice often done by illegitimate websites out to swindle people their hard earned money.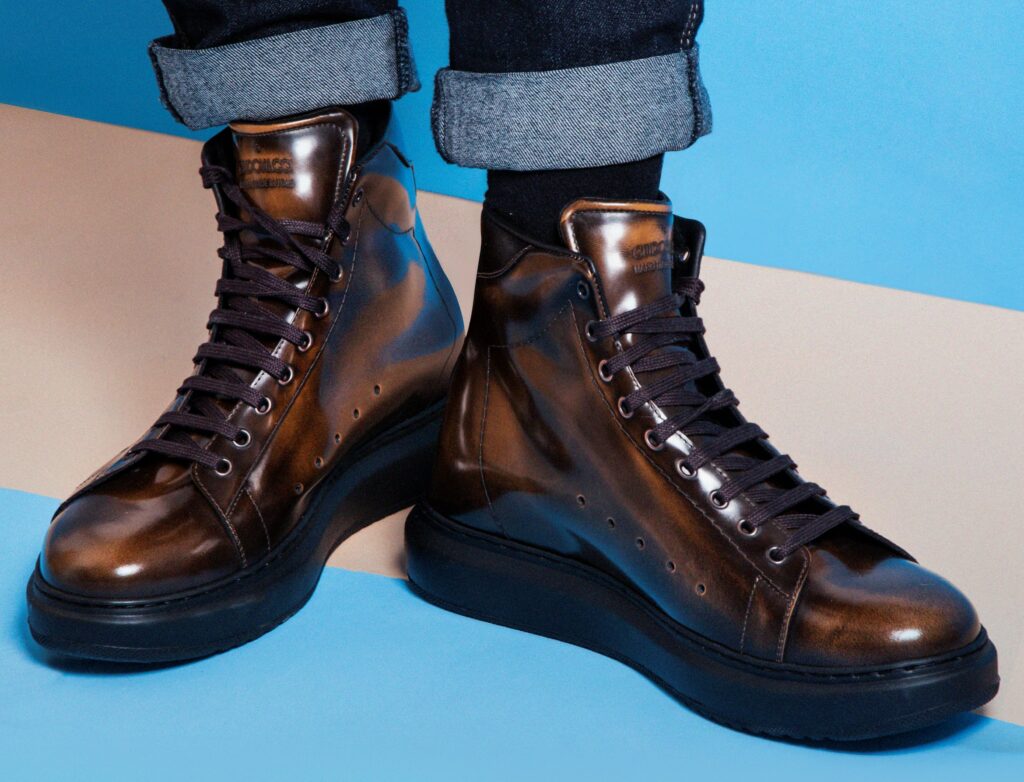 Websites with secure shopping carts
Secure shopping carts protects buyers from theft and hacks. Do not buy from websites that don't offer secure payment systems. Do not try to give your credit card number to strangers over the phone. It's safer to deal with shopping carts that only show the last four digits or either the first four digits of your credit card numbers. There are other security features when it comes to secure payments. Confirm the safety policy of a website before trading with them.
How will the product be accessible after purchase?
Once you are well aware of the online company you want to buy shoes from, confirm with the customer service on how you will get the shoes. Ask to know whether the shoes will be delivered to your house or you'll have to go for them at a particular location given to you. Most companies often deliver their products to your home to create a good customer- company relationship. Another reason for this is to allow easy returns in case the shoes do not fit as expected. That's why customers are encouraged to immediately try on the shoes they ordered upon their arrival.
For how long will it take to get the product?
Different companies have varying time schedule to deliver their products. With everything else constant, please go for companies with a lesser turn-around time. We all want fast services. Online shopping is no exception. You should ask for better and faster services just like you pay for when buying the shoes. 
Customer care is everything. How you get treated the first time should tell you the quality of the company and their values. A company that gets back to you as soon as you reach out to them is a better seller. It may also mean their goods are as good as their care. On the other hand, poor first time treatment may mean poor quality, although this is not the case at all times.
Before purchasing shoes from an online brand, consider reading about other customers' testimonials and the rating of the brand. By doing this, you will have a better understanding of how reliable the shoe brand is. Testimonials and ratings are accessible in the websites or social media platforms.
Websites should offer descriptions about the shoes; for example, the type of material used in making the shoe, color of the shoe, heel height, etc. 
What is your shoe size? The question frequently asked when one physically goes to shoe stores for shopping. Shopping online requires clients to choose the right shoe size. Always check for the guide lines on sizes when purchasing shoes because it will be disappointing receiving shoes that aren't the right size.
Conclusion
Online purchases are convenient and affordable. Besides, they let you save time by doing your own things as you wait for the items you ordered for to arrive. Well, it may look all rosy until you get into business with the wrong people. You may be swindled in many ways. That is why it is critical to ensure, you chose a reliable brand like www.guidomaggi.it so that you can get it right at all times. This article has highlighted things you can consider so as to make the right decisions when buying shoes online.
(Visited 12 times, 1 visits today)